Deluxe double
»Garden Wing«, approx. 49m² (incl. balcony or terrace)
A southerly view over our mountain meadow - balcony or terrace - offering absolute tranquility. With a bay window sofa and wooden flooring.
Layout
Cosy reading niche in the window bay
Views of our alpine meadow
Extra long bed (210cm)
Oak flooring
South-facing balcony or terrace
Bathroom with bathtub and shower
Selection of teas and recyclable coffee capsules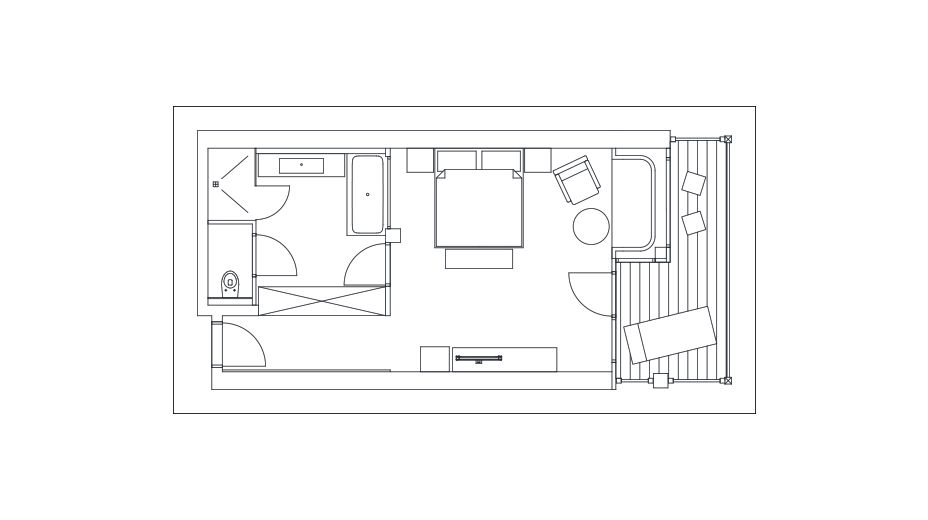 Deluxe double »Garden wing«
Period
from 7 nights
So - Fr
Weekend
Summer | Autumn
17.07.2022 - 20.11.2022
255 €
270 €
290 €
Advent
20.11.2022 - 22.12.2022
240 €
250 €
270 €
Christmas | New Years Eve
22.12.2022 - 08.01.2023
315 €
315 €
315 €
All prices are in Euro and incl. VAT. The prices apply per person, per night and include all the Kranzbach indulgence services, extended half-board, active and relaxation program, use of the pools and the sauna facilities, Wi-Fi and garage.
Su = Sunday, Fr = Friday
We are sorry to inform you that the hotel will be closed between June 12th – July 17th 2022 for the G7 summit and renovations.
You can take a look inside the deluxe double room here.
360° Tour
Start the tour
Online booking or enquiries
Do you need a break and just can't wait?
Then secure your room in Kranzbach right now.