The »Kranzbach« Treehouse
… ideal for a romantic retreat.
We have created for you a special place to withdraw and relax - our Kranzbach-Treehouse.

Surrounded by tree-tops, awaits a 50m² appartment and 30m² South-facing terrace; built entirely from wood. You will experience the harmony of nature and your only distraction will be the twitter of birdsong, from your elevated position, 4m above ground level.

Das Kranzbach-Treehouse is furnished with a large double bed, lounge area, tea-station, walk-in-dressing room as well as a bathtub for two, with a forest view! The large panorama windows offer you a wonderful view directly into nature. On the terrace you are provided with a table and chairs and a double lounger.
Layout
Stunning view
A hideaway with creature comforts
Double bed with treetop views
200x160* cm sized bed (*length x width)
Wooden terrace – 4m elevation
Light, spacious bathroom
Living in the middle of nature
Selection of teas and recyclable coffee capsules
Also in our Treehouse, you can enjoy the full hotel service including the superior »Kranzbach« Half-board as well as all of our indulgence services. Unfortunately due to its location room service is not available in the treehouse.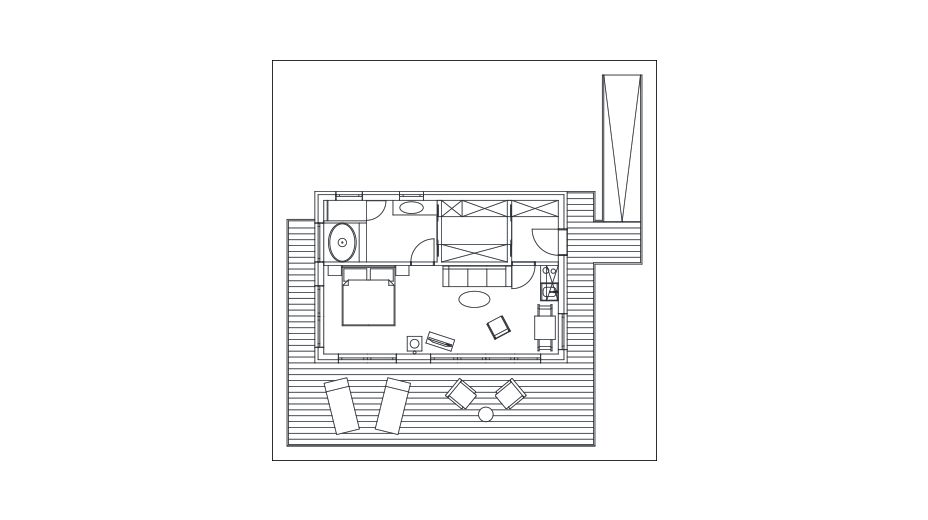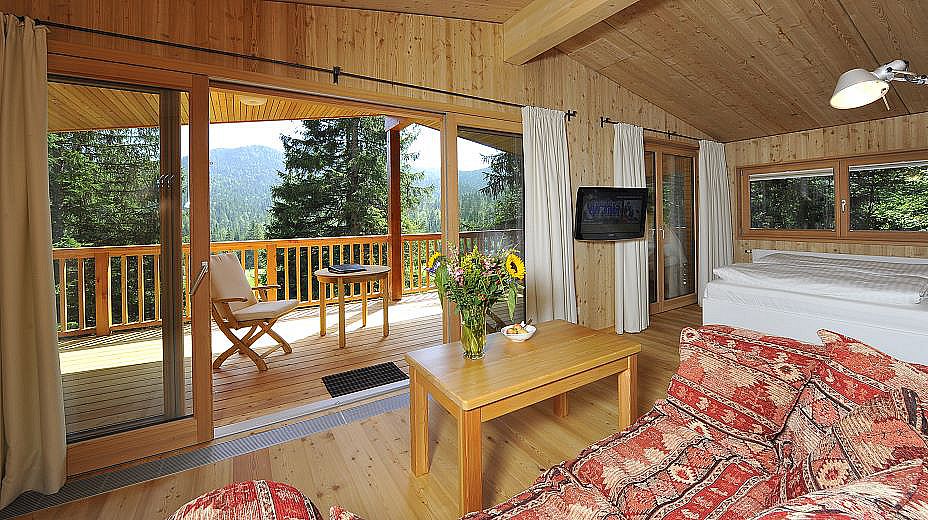 The »Kranzbach« Treehouse
Period
from 7 nights
Su - Fr
Weekend
Summer
14.05.2023 -19.11.2023
380 €
400 €
420 €
Autumn
19.11.2023 - 22.12.2023
360 €
380 €
400 €
Christmas | New Years Eve
22.12.2023 - 07.01.2024
445 €
445 €
445 €
Winter | Summer
07.01.2024 - 07.04.2024
17.05.2024 - 03.11.2024
400 €
420 €
440 €
Spring | Autumn
07.04.2024 - 17.05.2024
03.11.2024 - 22.12.2024
380 €
400 €
420 €
All prices are in Euro and incl. VAT. The prices apply per person, per night and include all the Kranzbach indulgence services, extended half-board, active and relaxation program, use of the pools and the sauna facilities, Wi-Fi and garage.
The treehouse is bookable for a maximum of two people and a minimum of two nights.
Su = Sunday, Fr = Friday
Online booking or enquiries
Do you need a break and just can't wait?
Then secure your room in Kranzbach right now.